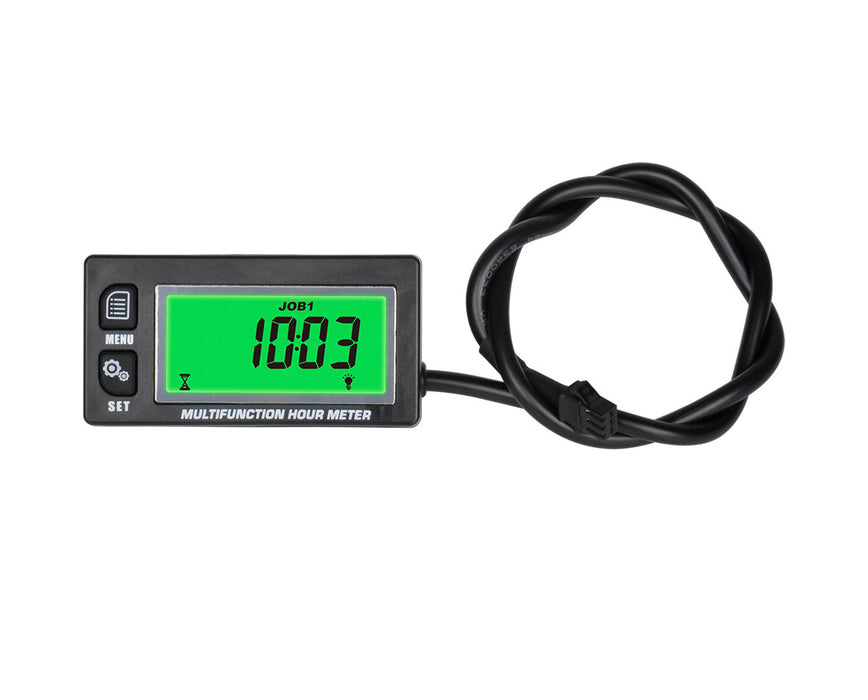 Multifunction Hour Meter HM-028
The LATNEX HM-028 Multifunction Digital Hour Meter measures the working time and real-time RPA value of gas engines (detected by the spark plug).  It has a multi-colored backlight, RPM reminder, maintenance or volt status, and a waterproof design that makes it perfect to use in all weather conditions. 
Product features:

Tachometer: RPM / Max RPM / Alert RPM 

Hour Meter: Total hours 

Resettable JOB timer

Maintenance service timer: SVC&SVC1

Clock

Volt: Volt / Max RPM / Alert Volt

Backlight color change

Replaceable internal battery 


Waterproof IP65
Specifications:
Product size: 79x41x21.4mm
Screen size: 51.3x23.3mm
Battery type: CR2450, 540 mAh
Waterproof rate: IP65
Display mode: LCD
Application:
Paramotors, Microlights, Marine Engines - Inboards and Outboard Pumps, Generators, Mower, Model Boats, Motor Cycles, Scooters, Cleaners and Chainsaws etc.