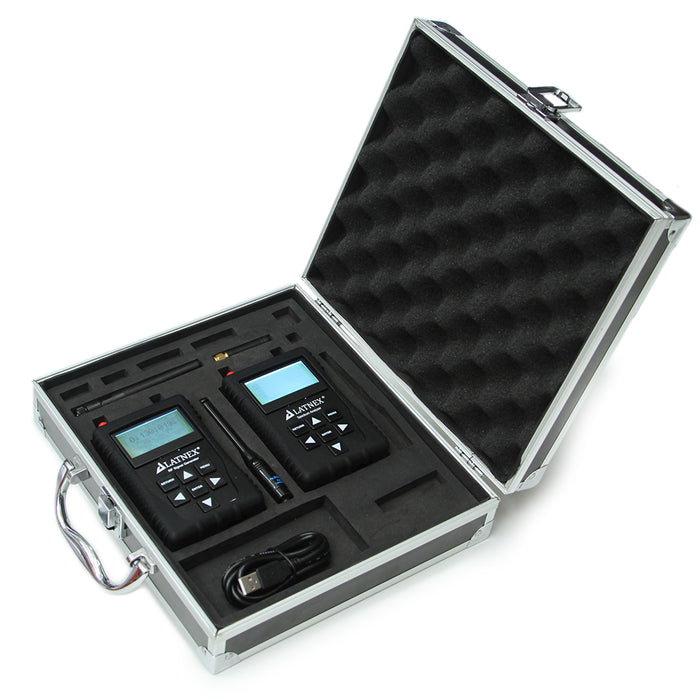 RF Spectrum Analyzer SPA-6G & RF Signal Generator RF-SG6 with Professional Aluminum Carrying Case
The LATNEX Spectrum Analyzer Combo, SPA-6G and the RF Signal Generator RF-SG6 provides the perfect KIT for RF professionals. 
SPA-6G
Handheld digital spectrum analyzer, a very affordable tool for work in all popular frequency bands. It is based on a highly integrated frequency synthesizer and double balanced mixer which offers high performance, compact size, low consumption and low cost. It has been designed to be used equally well outdoor and indoor, and can be connected to a PC for extra functionality using standard mini - USB 2.0 connector. 
It comes with two SMA connectors and three antennas: Nagoya NA773 wideband telescopic antenna for all Sub-GHz frequencies, a rubber duck 5.8 GHz and a whip helical for 2.4GHz band. 
Also includes the LATNEX RF Signal Generator RF-SG6: a powerful, wideband fully programmable RF signal generator. It is the perfect companion for Spectrum Analyzer RF Explorer product line. 
This bundle comes with a "Professional" aluminum carrying case, the largest custom case we offer. This allows you to better protect your devices and accessories and ensure longevity for your Spectrum Analyzer.