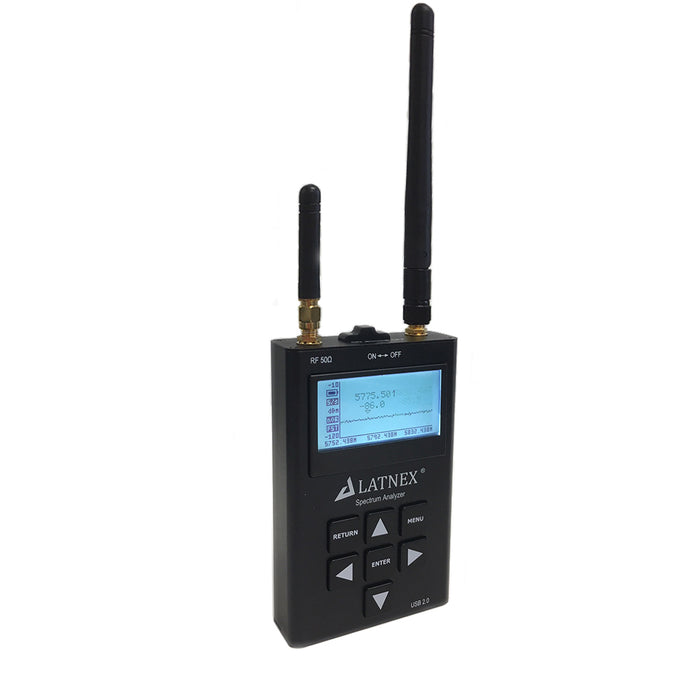 Spectrum Analyzer SPA-6G (15MHz - 2700MHz & 4850MHz - 6100MHz)
LATNEX® SPA-6G is a digital portable Handheld RF explorer spectrum analyzer that works in all popular frequency band spectrums.
It is based on a highly integrated frequency synthesizer and double balanced mixer which offers high performance, compact size, low consumption and low cost. It has been designed to be used equally well outdoors and indoors and can be connected to a PC for extra functionality using standard mini-USB 2.0 connector.
It comes with two SMA connectors and three antennas: Nagoya NA773 wideband telescopic antenna for all Sub-GHz frequencies, a rubber duck 5.8 GHz and a whip helical for 2.4GHz band. 
Additionally, specific band antennas may be needed to cover efficiently some of the frequencies supported. The unit offers coverage for most used communication frequency range such as WiFi, Bluetooth, Wireless Audio and Video, LTE, GSM, GPRS, Satellite, CATV, DTV, etc.
The SPA-6G Combo package includes the SPA-6G Spectrum Analyzer and an aluminum protective carrying case, as well as additional accessories. This aluminum carrying case allows you to protect your device and keep all the parts and components organized.
Scope of delivery
LATNEX SPA Spectrum Analyzer 

EVA protective carrying case

Three RF Antenna's - Nagoya NA773, whip helical antenna for 2.4GHz band and a rubber duck antenna for the 5.8 GHz frequency

Protection boot

Noise-canceling thick mini USB cable for PC connectivity and charging

USB key with user manuals and software

Free downloadable high-performance software for Windows -

real-time or adjusted signals, 3D spectrogram waterfall, CSV export, high-quality graphics, and a large feature set is available for free to RF Explorer users
 Note: this unit does not include RF Generator functionality, only Spectrum Analyzer functionality is available. For signal generator and tracking please consider LATNEX Signal Generator model RF-SG6.
Specification
Spectrum Analyzer Frequency

- 15MHz - 2.7GHZ  and 4.85GHZ -6.1GHZ 

Span

- 2MHz - 600MHz for the 6G mode and

0.112MHZ - 600MHZ

or the 3G mode

Frequency resolution

- 1KHz

DANL typica

l - 105dBm

Amplitude resolution

- 0.5dBm

Automatic RBW -

2.6KHz -812KHz

Graphics LCD -

128x64pixels

LCD Backlight -

5 levels

LCD Contrast -

10 levels

RF Impedance -

50 ohm

RF Absolute Max input power -

25dBm in 6G Mode and 30dBm in 3G mode

RF Max measurable input power -

-15dBm in 6G Mode and -10dBm in 3G mode

Wi-Fi Analyzer

- 13 channels 3G and 4G Wi-Fi

DSP

- Filter/Fast

Frequency accuracy (typical) -

10ppm in 3G mode and 0.5ppm in 6G mode

Frequency stability (typical) -

10ppm in 3G mode and 0.5ppm in 6G mode

Amplitude stability (typical) -

+-1dBm

Amplitude accuracy (typical) -

+-3dBm in 3G mode +-6dBm in 6G mode

RF DC decoupled

- Yes

Max RF DC voltage -

16VDC

Windows PC Client tool -

32/64 bits

RS232/USB API -

 YES

Internal CPU (MIPS)

- 16

Extra RAM -

64KB 

Extra ROM -

 2MB

Size -

113x70x25mm

Weight -

185grams